I now write news for Digital Journal, but I have been contributing Google News articles since the first day writers at Suite101.com were invited, in April 2010. The Icelandic volcano was that weekend, and quite a few Suite101 writers found plenty to alert the world about!
Film School related Google News Articles List

Here's the list of my Suite101.com Film School News, Studio News, Casting News and Technology News articles:
The Adventures of Tintin Secret of the Unicorn European Previews
UK Release of Retreat: Thriller Co-written by University Student
Harold Bishop Returns to Neighbours
Spielberg's Tintin, Teasers and Posters Released
Hobbit Movie New Wellington Casting Call – Only Elves Need Apply
Hobbit Movie Cast Gives Press & Photo Call at Wellington Studios
Aardman Creative Director Talks About Shaun and Slapstick Comedy
Brooklyn College Base Graduate School of Cinema at Steiner Studio
Red Digital Cameras 3D Movie Workshop
Deathly Hallows Movie Launch Hype with Download Leak Scandal
Weta Releases Grateful Hobbit Movie Statements
The Hobbit Amendment Law Ensures Two-Movie Production Stays in NZ
Non Film School News Articles

I had three news articles in October 2011, just before Suite101 ceased Google News accreditation in November. As you can see, my interest in archaeology and the light it throws on anthropology is well represented here.
Scotland Viking Boat Burial Discovery Makes History
Richard and Judy Book Club Autumn Reads Announced
British Film Festivals Benefit from BFI Audience Support Grants
Romance Fiction Award Shortlist Announced for Valentine's Day
Hawass Anxiety for Egyptian Antiquities in Attacks on Museums
Harry Potter Set to Rescue Florida Tourism From Oil Spill Gloom
Antarctic Expedition Memorabilia – Cambridge Exhibition Reopens
Australian Dreams and Nightmares for Drivers at Turkey GP
Genome Sequence Evolution Insights – Humans Share Neanderthal DNA
Volcanic Ash Travel Compensation Email Scam, CAA Warning
Iceland Volcano, Flights Update – UK Airspace Reopened
Classic Maya History – Artifacts and Skeletons Embedded in Homes
Iceland Volcano New Eruption Royal Navy May Rescue Stranded Brits
I like to cover stories about the world of books and reading when I can, and I love the challenge of writing in the news style.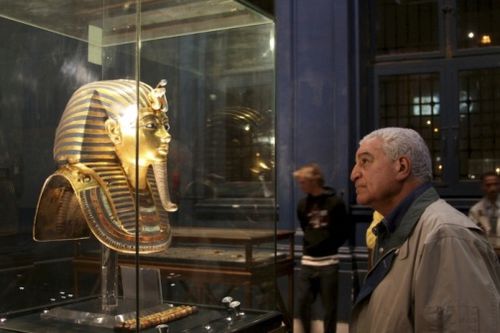 Here is Dr Hawass looking at the precious mask of Tutankhamun in the Cairo museum, that at night is locked in a cage. Because of the cage, it was not damaged or stolen during the Arab Spring revolution of 2011. Dr Hawass later lost his government position and been investigated for various alleged crimes related to antiquities trafficking.