As you may guess from my bookworm avatar, books have been an important part of my life since I was born - into a house with books, obviously. I had my own bookcase when about eleven years old, and more often asked for books for Christmas than any other gift.
Then there is the life-long compulsion to write. I have contributed to quite a lot of books, fiction and non-fiction, and hope to publish some of my book ideas before too long.
I shall be posting articles, and links to articles, about books and authors on my blog Bookshelf, so keep coming back to see what's new.
Let's start with An Audience with Charles Dickens and some links to my book reviews, then follow up with a touch of the brilliant Catherine Fisher.
My PhD started as being about why I couldn't write a regional saga novel. I read hundreds of saga novels and hundreds of other books in pursuit of an answer. I interviewed quite a few authors, agents and editors as well as readers in pursuit of an answer. Maybe I'll share some of that story with you sometime?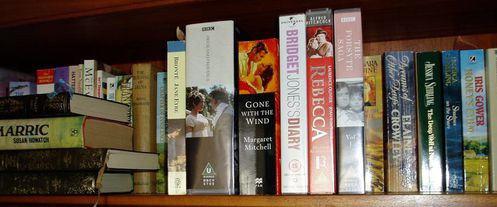 A snapshot of just one of my many bookshelves