December 10 2013
3
10
/

12
/

December
/

2013
12:01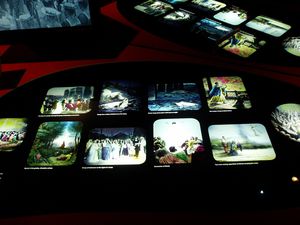 It is not an outline, a blow by blow, chapter by chapter account, a summary of the plot; it sells the idea of a book. It can give an indication that you are not just about fine writing in your first three chapters, but that you understand how to structure a plot. Often it is read after the sample chapters have got the publisher on your side and wanting to know more.
This is where you must not be laboured and tedious and where you must tell a good story – in brief. If you convey your interest and enthusiasm for your own plot, that's a positive.
One thing you can indicate is the character arc of the main character – where they are starting from, how they resist change then gradually commit to it, how they experiment with a different way of being; the darkest moment, when all seems lost for that person's desires; the collaboration with, then the commitment to, other people and new aims; the resolution.
What is a synopsis for? What are some of the uses of the synopsis?
The synopsis is a really professional document and should be a really useful one. It has a range of functions:
1. Tells an agent or editor what genre your book is
2. Gives a sense of the author's voice
3. Gives an idea of the audience the author is aiming at
4. A quick guide that tells the publisher/agent if it is what they are looking for at that time – can tell them if it's too close to something they are already marketing or if it will fill a void they have identified
5. Offers a guide to the marketing department of key themes – books are marketed long before they are printed – at book fairs, for instance
6. Suggests whether the writer actually can write/visualise/conceive of, a whole book
7. Clarifies, or should clarify, the timeline
Some of these points by me and some by Nicola Morgan Write a Great Synopsis – an Expert Guide Kindle book – very short, not best value for money perhaps (IMHO)
Sue Moorcroft, in her book Love Writing says a romance/erotica synopsis is often only one or two pages and is written in the present tense, third person, in the same tone as the book.
She suggests that the synopsis tells the editor if the number of characters is right; if the storyline is focused; if there is a terrific ending. "A synopsis is written using broad strokes," she says, "using memorable words and descriptions that add drama. Its job is to bring your book to life so that the professional wants to read more."
a. Begin with a sentence that sums up the theme of the book; then the next sentence covering what kind of novel it is and where it is set.
b. Introduce major characters, their motivations and how one character's actions impact upon another.
c. Pick out high-spots or pivotal plot points – crisis, obstacle, resolution.
d. Setting and atmosphere.
e. Emotions of characters, enthusiasm of writer.
f. Hooky first paragraph, synopsis crammed with conflicts and resolutions for the fascinating major characters. Fizz with excitement over the central romance. Never say 'the novel' or 'the book' use its title every time.
Follow the latest guidelines you can find - in 1999 Carol Blake was asking for 4 to 10 pages of synopsis, but now her agency guidelines say 1 to no more than 3 pages – because they do not have the time.
John Jarrold (science fantasy, no Young Adult fiction) says follow the guidelines on the agent's website and, the synopsis should not be bleak and bland but should offer a frisson of the author's personality. It should give a sense of the book (rather than a plot outline). A proposal for a series would contain a synopsis with a really detailed story arc for book 1, be less detailed for book 2, and less again for successive titles in the series.