January 15 2012
1
15
/

01
/

January
/

2012
15:17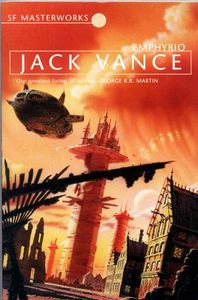 Jack Vance, one of the great science fiction writers, imbues his novel Emphyrio with incident, marvel, mystery, and complex narrative structure to make a satisfying read. I have to say, though, that this book is a challenging read, and lends itself to different interpretations.
Ghyl is apprenticed to his father, a craftsman wood carver in a country where government controls permeate every aspect of life. All manufacture by reproduction or copying is strictly forbidden, so when Ghyl discovers his father photographing and printing off copies of old manuscripts, his view of life, love and the universe is drastically transformed.
From there, Ghyl vows to be more like the legendary Emphyrio, righter of wrongs and revealer of truth. By the end, though, what is not revealed is the mystery of the opening scene.
"The unconscious prisoner was clamped into an intricately articulated frame. The top of his skull had been removed; upon the naked brain rested a striated yellow gel," could be imagined as intertextual reference to Anthony Burgess's A Clockwork Orange, but more likely to the effects of authoritarian governments contemporary with that. The rest of the book is the memories of the prisoner, but it's an excellent, and unpredictable, story.
Puppets in a Play Within a Play
Chapter two reveals the child Ghyl as he accompanies his father to a puppet show. The play itself depends upon a palimpsest of pretexts, a character playing another character, puppets played by docile furry creatures imported from another planet, puppets playing other puppets in a play set in a puppet theatre. The play within a play that the puppets are performing is the "traditional drama Emphyrio", a hero crusader who is executed for trying to speak the truth. This foregrounds the theme and the complexity of the novel that is yet to come.
Puppets and automatons and possibly robots figure to varying degree. The freedom of the individual stifled by increasing State control is the theme, but the exploits of Ghyl, the hero, begin as good clean teenage fun. There are so many layers to this interplanetary mystery that the reader never quite knows where it is taking them. The narrative progresses comfortably for a while, then there's a major shift that plunges the reader back into the mystery again. What is also enjoyable is the combination of historical 'feel' with futuristic scenario.
Award Winning Science Fiction Author
Vance was awarded his first Hugo Award in 1963. He earned several more and a Nebula Award for other works. He received both the World Fantasy Convention Lifetime Achievement award in 1984 and the Grand Master Nebula for Lifetime Achievement in 1996.
While Vance wrote mostly science fiction, he also wrote detective novels, and he uses the detective mode in Emphyrio to reveal his character's rigorous quest for knowledge and truth.
Jack Vance (1969, repr. 1999) Emphyrio SF Masterworks series Orion / Victor Gollancz / Millennium (ISBN 1 85798 885 x.